'S' type load cells for dyno torque measurement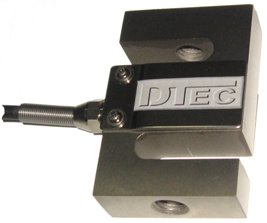 Brake (absorber) type dyno's apply a load (e.g. Eddy current brake) against the engine and the torque applied is measured on a 'load cell'. This is typically an 'S-beam' type which can measure in both compression or tension mounting configurations.
Suitable for tension or compression measurements

200kg (440lbs) capacity or 500kg (1100lbs)

Precision 'S' type load cell, class C3 accuracy

Easy mounting (M12 x 1.75) for eyelets, rose joints or bolts
Load cells also require an amplifier (also called 'signal conditioner', 'transmitter' or 'strain gauge' amplifier) to provide them with power and to increase their output voltage to a usable range.
We offer a selection of load cell sizes to cover most dyno applications, use the appropriate tool below to assist in choosing the best size for your application.
Click on the icon below to view the attached information booklet-
Popular Accessories -
The accessories below may be required if you do not have an equivalent available. 'Click' on the links for full descriptions.
◄ Back to 'Product' page for purchasing and to view all products