Weather Watch- Weather station for DYNertia3 or 'stand alone' track tuning.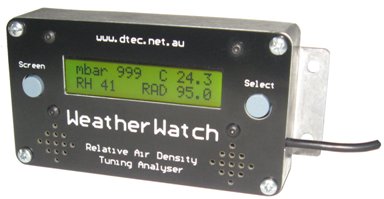 All good tuners appreciate the significant effect that atmospheric conditions have on engine performance!
'Weather Watch' is an option for DYNertia3 dynamometer system, it can also be used as a 'track side' tuning aid to monitor changing weather conditions and adjust your tuning to the current RAD (Relative Air Density).
Temperature, Barometric pressure and Relative Humidity are measured and transmitted to either DYNertia3 software or to the 'Weather Watch' monitoring program for track use.
USB connection to the PC and a compact size make it easy to mount track side or in your dyno control room.
Key Features
Direct interface to DYNertia3 software to allow automatic updating of data for atmospheric correction.

USB is only connection required for power and communication.

Compact dimensions 50 x 35 x 90mm with 4 rubber 'feet'.

Temperature, Barometric pressure and Relative Humidity are all measured.

Microprocessor based with precision sensor set.

LED to indicate data transmission.

Stand alone software for race track use.

Displays RAD (Relative Air Density) and dyno correction factors (SAEJ607, SAEJ1349, DIN70020).

Data logging to the PC for record keeping.

Selectable units (metric, Imperial and various measurement units).
Click on the icon below to view further information-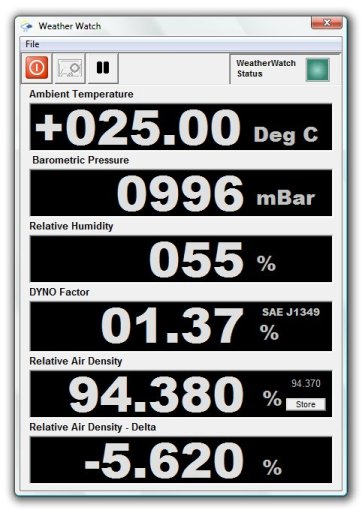 ◄ Back to 'Product' page for purchasing and to view all products