Dyno RPM Adapter- Signal conditioner, suitable for DYNertia3's digital input.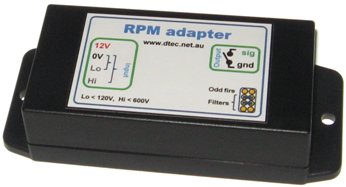 The DTec 'RPM adapter' is designed to turn signals from many different sources into compatible signals for connecting to digital devices, such as DYNertia's 'RPM Adapter' input (DYNertia3 uses this input to provide an optional second RPM source).
Some of the sources 'RPM Adapter' can be connected to-
Ignition leads, by simply placing a sensing wire alongside the spark plug lead

Ignition coil, switched terminals on inductive or CDI systems ('primary' coil voltage)

VR sensors (also known as 'inductive' sensors) that generate an AC voltage (like most ABS wheel speed sensors)

'Drive' signals to modules/igniters or many 'coil on plug' systems that use an inbuilt transistor

Injector switching wires

It can even process 'odd fire' inputs like on many V-twins (unevenly spaced firing intervals)
There is a Hi voltage input (up to 600V) and a Low voltage input (up to 120V). The low voltage input provides good sensitivity for VR sensors and digital coil drive signals, the high voltage is designed for direct connection to the coils switching circuit (coil primary, not secondary spark plug voltage!)
The units output terminals are basically an electronic switch (transistor) that pulse closed upon an input signal. This internal 'switching' circuit is fully isolated (optical isolation) from the inputs and power supply, this gives protection to DYNertia3 or any other device using it as a signal source .
'RPM adapter' is microprocessor controlled and even has adjustable output pulse times, filtering and a self test mode.
Like everything, it may have limitations, but we haven't found any yet!
Note: A 'Hall' style sensor can be directly connected to DYNertia3 'RPM Adapter' input with no need for any signal adapter!
Compact - only 111 x 47 x 28mm.
Click on the icon below to view the attached information booklet-
◄ Back to 'Product' page for purchasing and to view all products